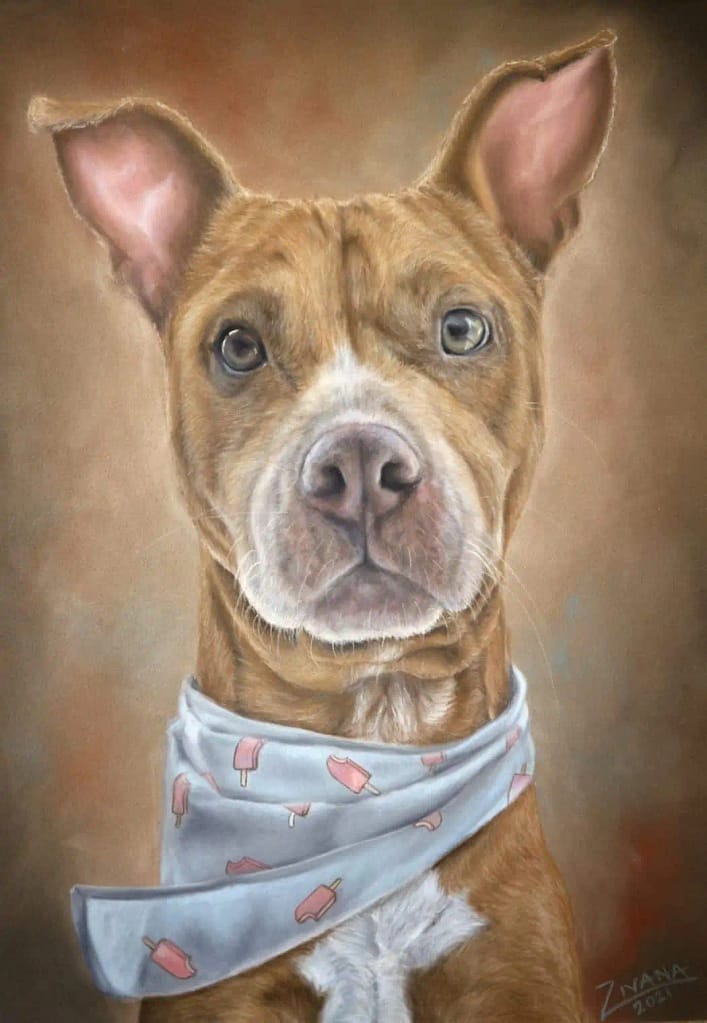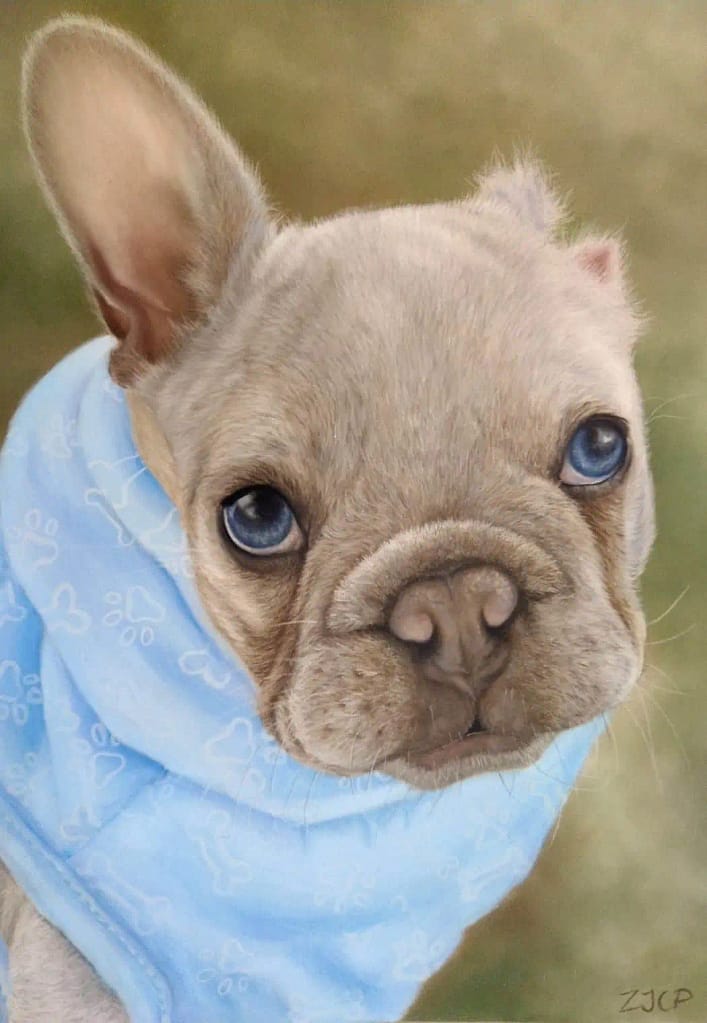 Welcome to my commissions section!
Here you will find info on prices and sizing as well as how to secure a commission with me…
Although I specialise in pet portraits, I can also do portraits of your family/friends too. I work in high quality soft pastels on pastelmat paper to deliver photo-realistic portraits that will last a lifetime plus! If you have any specific requests or any questions about a commission, feel free to contact me directly.
Steps for placing an order:
Photos – Email me your favourite photo/s of your pet/subject, the more photos the better. The photo needs to be clear and showing the true colour of your pets fur etc. The higher the quality of the image, the more detail I will be able to convey in the drawing. I also may be able to alter small details in the photo that you want or don't want in the drawing (e.g. taking out a collar in the drawing that is in the photo etc). Try and capture your pet/subject as the main subject and without distortion by getting to their level – crouching down rather than taking the photo from an above angle. Make sure the setting is in natural lighting with minimal shadows. Taking the photo inside during the day or outside in the shade is best.
Size – I have a sizing guide in the table below that will help pick the size you need, I will also give you recommendations based on the photos I have received from you.
Timeframe – I work on a first come first served basis. When you enquire for a commission you will be added to a waiting list at which time I can give you a rough estimation of the timeframe. I can provide guidance for taking a great photo that will ensure the best result possible. When I come to your place in the wait list I will contact you and we can get the process underway. I can potentially be flexible if you need a portrait for a specific event depending on my workload, so feel free to just ask!
Deposit – Once everything above has been agreed upon, a 25% deposit is required to secure your commission with me. This can be done through bank transfer or paypal. Once I have received your deposit, your booking is complete and I can start drawing!
What to expect from here: 
Once everything is confirmed and I start to create your portrait, you can expect regular updates and photos of the whole process via email so you can watch your portrait come alive! Once completed, I will send you a final image for your approval and once I receive the final payment, I can send it to you.
Postage:
All portraits are packaged inside a clear file, in between cardboard to ensure the portrait arrives to you in perfect condition. For larger portraits, I will post in a tube. You can flatten these portraits under heavy books etc – just make sure the protective paper is still on. The portrait is posted unmounted and unframed as I believe choosing the right frame is more of a personal preference, although I can make recommendations. All commissions will be posted with a certificate of authenticity.
The price of postage will be added to your final 75% payment and must be paid before I can send your portrait. I will give you a quote of postage price when you first place your order. All packages will have tracking and be fully insured. International commissions are sent requesting a signature on arrival. Please allow for 2 – 3 weeks for international shipping. Delivery times within New Zealand will vary depending on the area, allow 1 week for deliveries within New Zealand.
Interested in a pet portrait?
Join My Commissions Waitlist
I work on a first come, first served basis. Don't wait to add yourself to my list today!
Pricing and sizing guide
The sizes are approximately standard (A5, A4, A3, A2), the dimensions may vary slightly depending what works best for your photo. These prices are for a standard background that I will discuss with you at the time of securing your commission. Additional costs will incur if you have specific background requests. Contact me directly for a more precise quote if you have any special requests regarding sizing, backgrounds or alterations to the reference photo. Prices are in NZD and are subject to change.